During these past few months, many photographers have had to find ways to create a sustainable income whilst their usually means of work has been drastically taken away from them. One common field that many photographers have moved into is to create videos and livestreams around the field of photography, with subjects such as teaching photography basics, unboxing and testing new equipment and possibly even showing a shoot in their own studio live. There are many different platforms available online to allow this media to be shared, such as YouTube and Twitch, and these platforms can help gain attention and a large following easily. But whilst it is great to have this brand new following for your work, this still wouldn't be a simply way of generating an income, so we have found a few different ways that photographers could use to allow their following to support them financially and to help them continue to make an income whilst still following their passion for photography.
Firstly, is a website called Ko-Fi, which is designed specifically with photography and media creation in mind. This site allows you to create your own unique platform and page, that you can design freely and include any specific information to yourself such as website and social media links, and allows you to upload a portfolio of your images and videos for other members to follow and view. Other members are then able to donate a fee to generate an income for yourself or to further assistance with your creation, and leave a small message for you to view and possibly interact with. Plus, there are 0% transaction fees, so all the donated money will be sent straight to you, and its possible to have members request and purchase a unique commission just for them.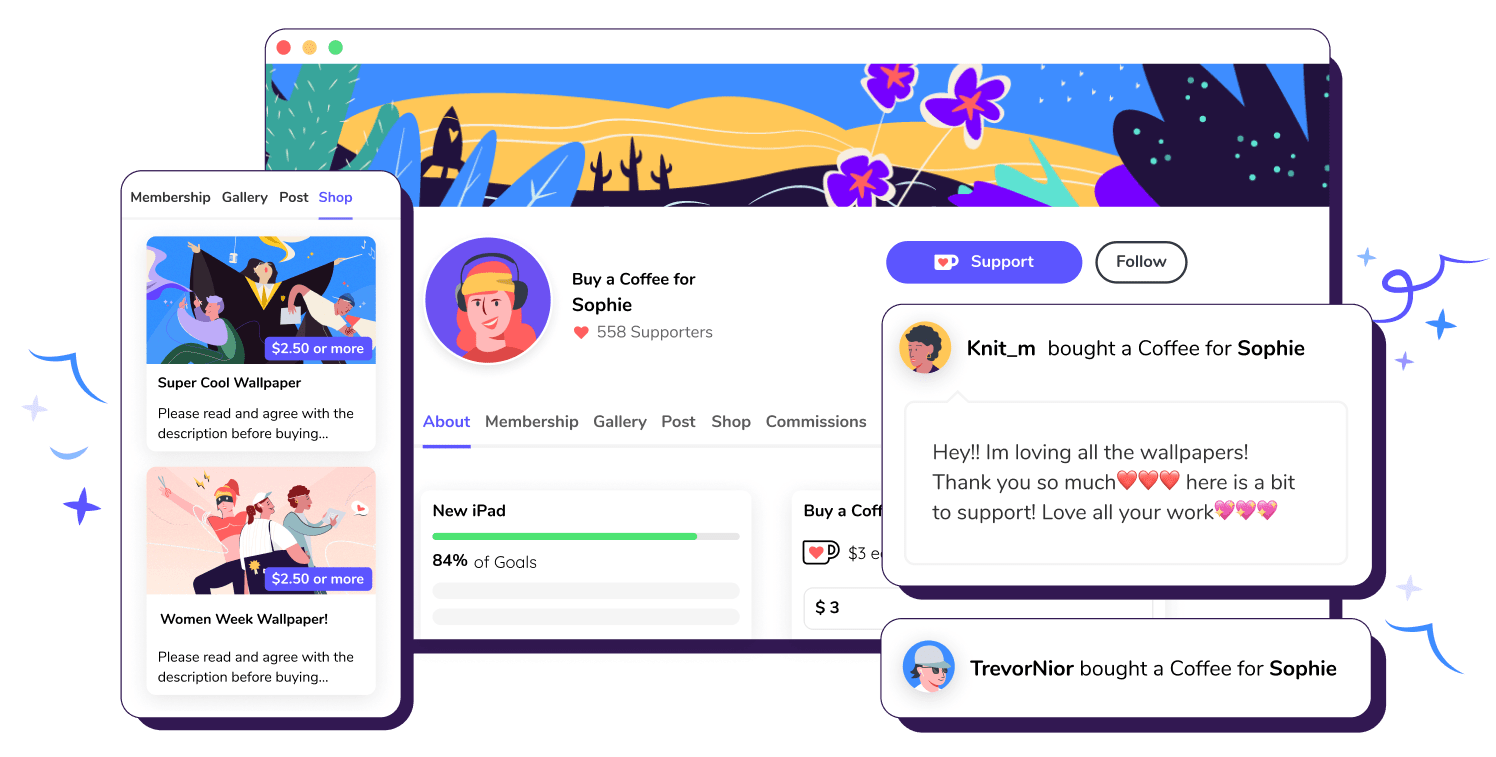 Secondly, is a website called Patreon, which is another website that could be used to create a steady income, but works slightly different to Ko-Fi. This website allows you to create an online portfolio and to upload images and videos when you want. How this differs is that this website is focused on a monthly subscription system, meaning that other members are able to sign up to your page and pay a fee to view your work. The benefit for you is that you are in complete control as to what the fee is that members will have to pay, allowing you to adjust this to keep a steady income flowing. You also have the option to create a tier system of monthly subscriptions, such as £5 for tier 1 and £10 for tier 2, and each tier can contain different material and media each month, so members who purchase the larger tiers can access more work than lower tier members. All of this is completely in your control and can be set up however required to keep you moving forward financially.
Both of these methods have their own benefits and drawbacks, such as some members may not want to be tied into a monthly subscription that Patreon gives but still want to give something as appreciation for your work, this is where Ko-Fi could come in.
So, whilst working from home and generating income online may not be something that you have considered in the past, it is now possible, with multiple creative avenues out there you can be on your way to getting a following and an income from your creativity! This method offers great flexibility, you can choose to mainly concentrate on online methods of getting your work out there or use it as a supplementary to your current work load.
Now working from home couldn't be easier, with our wide range of equipment made specifically for this purpose. View our Working from Home range below to see what lighting and equipment we have to make working from home that little bit easier and accessible.
Click the above image to view our Working From Home range