When live streaming, people usually use LED Panel Kit to have better light. Let's find out more about the GLOWPAD series, ES45 and ES30.
For many firms, live video streaming will be essential in 2022. Whether it's streaming video to stay in touch with consumers, digitally broadcasting events, or keeping in touch with workers who work remotely, video content is exploding. In this blog, Essential PixaPro will help you find out the most essential lighting for a professional live stream is a video camera such as GLOWPAD series, ES45 and ES30. 
 We here at EssentialPhoto are also able to offer a 24 Month UK Based Warranty Period for each of our Lighting units. It allows us to offer detailed and professional advice and support throughout this period. From here, you can generally figure out the key main strengths and weaknesses of these brands and also choose the appropriate flash. 
Sleek Streamlined Design
The ES45/30 has a robust metal construction, a fashionable slim shape, and a desk-mountable telescopic stand. The ES45/30 has a sleek, contemporary appearance. Since it sits flat against your wall and takes up very little desktop space thanks to the stand's direct desktop or tabletop clamping. Also, it stands as an adjustable joint that lets you move your light in any direction you need. But for the GLOWPAD series, there are multiple types of arm, and stand to attach to the table. With GLOWPAD 112CB, the Flexi Arm features a male 5/8inch stud with a standard 1/4inch thread at one end, and a Female 5/8inch stud receiver at the other end. This configuration enables you to mount a small light or accessory on one end. And also, the other end mount to a light stand or clamps such as the included C-Clamp etc.
The GLOWPAD450D has Table-Top Stand. With a two-section centre column extended to a full length of 41 cm and a minimum height of 30 cm before collapsing completely, the stand is portable, easy to store, and all-around good for general use with a variety of shooting possibilities. This design is a portable light stand that uses a fixed 5/8" spigot mount and a 1/4" screw thread to handle any lighting. The majority of lights or flashes now on the market cover by this, the most often used fixture.
Weight and Dimension
Each lighting unit is produced with a variety of weights and sizes. In more detail, the GLOWPAD350S/D has the smallest and the most lightweight at 4.2cm wide and only weighs in at 1.1kg. It gives you the opportunity to easy to pack away into a bag or place it in tight awkward spaces. In contrast, the GLOWPAD 450S/D has a profile of 5.5cm wide and weighs in at 2kg which is a little bigger and heavier than the 350S/D.
Easy On The Eyes For Live Streaming
Utilizing Edge-Lit LED technology, the ES45 creates a diffused light that softens specular highlights and harsh shadows for results. This feature is more aesthetically pleasing. The ES45's diffused lighting also makes them gentler on the eyes, allowing you to watch longer streaming sessions without growing tired of your eyes. It is essential if you spend a lot of time each day focusing on a screen. As opposed to typical streaming lights, the ES30 uses edge-lit technology to produce softer, more equal illumination that is brilliant.
After then, by creating a gorgeously even diffused quality of light that is very excellent for recording blogs, YouTubers, and portraits. Furthermore, by utilising Edge-Lit LED technology, the LEDs are positioned around the light's edge and pointed toward the centre of the panel. After then, the light is reflected, creating a gorgeously even diffused quality of light. The effects of a softbox are imitated by the GLOWPAD 112CB, but without the weight that a soft box might bring.
Cool-Running
Unlike conventional fluorescent lights, which can make your streaming space unpleasant and uncomfortable. The ES45 features a highly effective cooling mechanism to reduce the amount of extra heat that accumulates there. You can stream for hours on end thanks to this without becoming too warm or sticky. This feature is a little bit different from Godox ES30, it uses fanless architecture and is ideal for sound-sensitive streaming situations. You are free to share, enjoy, and be the centre of attention without any additional noises to annoy you during your live streaming.
With the GLOWPAD series, the company uses smart passive cooling for reducing noise. It produces less heat while used for long hours. When you need to simultaneously record clear audio throughout your shooting session. The panel's effective heat dissipation eliminates the need for cooling fans. Take GLODPAD 112CB for example, it will use smart-passive cooling and effectively distributes heat without the usage of cooling fans. As a result, the panel is noise-free, which is excellent for circumstances. Thanks to this, you could simultaneously capture clear images while you are live streaming.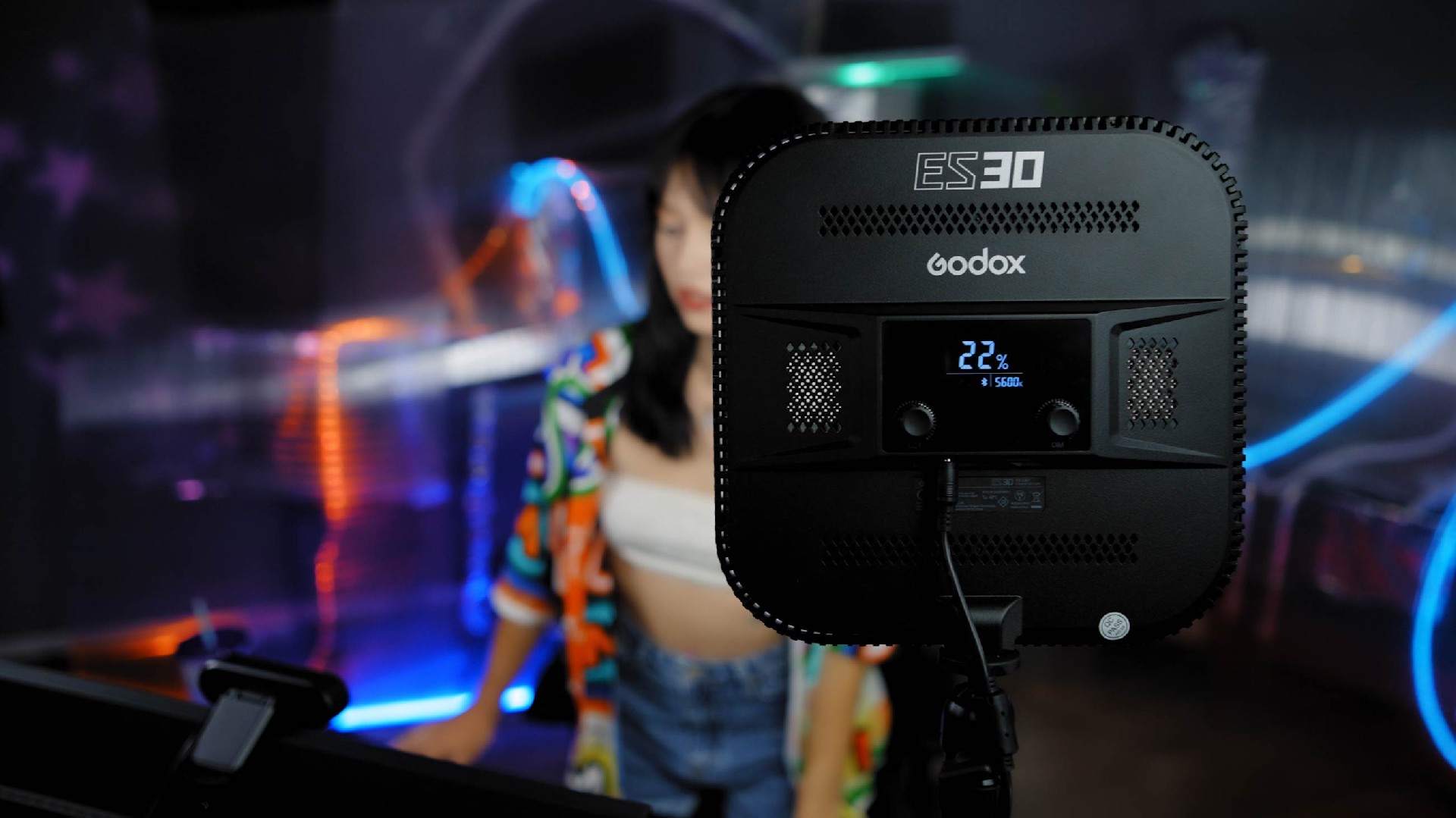 Colour Temperature
The ES45/30's Color Temperature may change between 2800K and 6500K. As a result, you can adjust your streaming environment's colour temperature. Additionally, you can utilise it to choose between a warmer and a cooler colour tone for your stream. A bi-color LED panel on the GLOWPAD series enables the colour temperature to be adjusted between 3200K (tungsten) and 5600K (daylight). Without losing brightness over the whole range, you might match the colour temperature of your shooting environment. Additionally, you can utilise it to change the tone of your video. Similarly, the 144SB and 112CB also are revolutionary Bi-Colour LED lights designed for both photographers and videographers alike.
Excellent colour rendition capabilities are present in the ES45. You may be sure that colours will be faithfully reproduced in your stream because it has a CRI of 96. The ES45 is appropriate for use in broadcast and television production. Because it also has a Television Lighting Consistency Index (TLCI) of 97. While the GLOWPAD series can let users capture the true colour and depiction with a CRI of at least 95%. Makeup artists, beauty vloggers and live streamers are fans of this.
Power Output
The GLOWPAD 112CB has a power output of 12W which is the lowest power consumption of all LED lighting in this blog. The Next is the GLOWPAD 144SB with 15W. While the 350S/D had enhanced its power output up to 45W. And also, the 450S/D is the most powerful of the seven units, having a power output of 75W. The ES45, nevertheless, comes with the next one in this list and uses 56W, which is a little more than the 350S/D. 
Detachable Magnetic Wireless Control Panel
The ES45 has a built-in rechargeable battery and a 2.4GHz detachable wireless control panel. You can use it to remotely change the light's brightness and colour temperature without having to reach behind the light. Simply reattach the control panel to the rear of the ES45 light panel once your streaming session is over to have the control panel's battery automatically recharge for you. For the GLOWPAD series, the company is including a charger and a lithium-ion NP-F750 battery. A 4400mAh battery with a 7.2V voltage will keep your light on for about 180 minutes at maximum power.
Bluetooth Connection For Easy Live Streaming
Through the Godox Light app for smartphones or tablets, you can operate the ES45 thanks to Bluetooth connectivity. You can use this to control a single light or several lights at once. Remote control of the ES30 is a breeze with the Godox Light app (IOS/Android). But it's not over yet. The ES30 and additional Godox fill lights and ambient lights in the space. It can be adjusted jointly or separately using the group control function and gives you complete control over the studio lighting configuration.
Flicker Free
With this special feature of the GLOWPAD series, you may film at almost any framerate or shutter angle without worrying about adding a flicker. For 360-degree product videos, this is crucial.
Several Mounting Options
Also, the GLOWPAD series is having more options for mounting. It has a hot-shoe mount, allowing you to attach it directly to the top of your camera. The female 14"-20 thread on the hot shoe mount. It allows for being fastened to a tripod or light stand that has a 14"-20 thread. Additionally, one of the sides has a 14"-20 thread that enables it to install sideways, which is excellent for rim lighting.
Final Words
With the above analysis of the GLOWPAD series, ES45/30, now you can know which one is suitable for your need. ES45/30, is an ideal solution for video conferencing using platforms like Zoom, as well as for game streamers, e-sports, etc. As the lights' sleek, contemporary design ensures that it blends in smoothly with your online gaming station, taking up almost no desk space while giving you aesthetically pleasing illumination. And the GLOWPAD series is very ideal for making conferences call, YouTubers, live streamers, cinematographers, night portrait photographers, and wedding or event photographers that need a portable, low-profile light source for their projects.
EssentialPhoto and PiXAPRO are pleased to be a direct partner of Godox in the United Kingdom, with the largest collection of Godox stock available in the UK. So you can be confident with the support and assistance we provide. As we are representing Godox at The Photography Show 2022, this further shows our partnership and commitment to the Godox Brand, and we are always looking to expand this further.
Brand
PixaPro
Godox
Series
GLOWPAD
Model
350S
350D
450S
450D
112CB
144SB
ES45
ES30
Price
£124.99
£134.99
£179.99
£199.99
£66.99
£66.99
£101.99
£114.31
LED Quantity
136
272
No data
352
112
No data
176
No data
Max. Output
45W
45W
75W
75W
12W
15W
56W
35W
Colour Rendition Index
≥95%
≥95%
≥95%
≥95%
≥93%
≥93%
≥96
≥96
Colour Temperature
5500K
3200-5600K
5600K
3200-5600K
3200-5600K
No data
2500
2800-6500K
Brightness
920 lux (1m) 3400 lux (0.5m)
920 lux (1m) 3400 lux (0.5m)
920 lux (1m) 3450 lux (0.5m)

920 lux (1m) 3450 lux (0.5m)

No data
F-Stop (at 1m)
f/2.0 (1/80 Sec @ ISO 100)

f/2.0 (1/80 Sec @ ISO 100)

No data
No data
f/1.6 (1/80sec @ ISO400)
No data
No data
Power Input
15V DC 3A
15V DC 3A
15V DC 3A
15V DC 3A
9V (2.5A) DC Adapter
6.8-12v DC Adapter
100-240V 50/60Hz 1.3A
Power Cable Length
3.2m (10.5')
3.2m (10.5')
No data
No data
No data
No data
No data
No data
Battery Plate
2x Sony NP-F Series
2x Sony NP-F Series
2x Sony NP-F Series
2x Sony NP-F Series
Sony NP-F Series
Sony NP-F Series

Built-in 3.7V Lithium-Ion Battery

Average Lifespan
50,000 Hours
50,000 Hours
No data
50,000 Hours
No data
No data
No data
No data
Dimensions
25cm x 44cm x 4.2cm
25cm x 44cm x 4.2cm
450mm x 55mm
450mm x 55mm
205mm ×162mm× 28mm
288mm ×148mm× 28mm
367mm x 230mm x 45.9mm (With Control Panel)
Weight
1.1kg
1.1kg
2kg
2kg
270g
360g
1.33kg With Control Panel
0.74kg
Mount
Standard 5/8 inch
Standard 5/8 inch
Standard 5/8 inch
Standard 5/8 inch
Hot Shoe Mount

Battery Usage Time (

NP-F750

)

Battery Usage Time (

NP-F970

)