MagMod Fans!- You may have heard that MagMod has recently announced their new professional light modifiers range - the MagMod XL system! Designed specifically for Bowens S-Type fitting lighting ranges, the new XL strobe light modifiers system is geared towards larger strobe lighting units. It is a new step up from MagMod's popular compact MagGrip modifier range for speedlites and small flashes. We're happy to announce that the MagMod XL will be coming to EssentialPhoto very soon!
 Working a similar way but with the fitting working as another light modifier with the Bowens Fitting, the MagMod XL works around the Collapsible XL Reflector. It is easier than ever to control, diffuse, and dial in the perfect colour balance, all while eliminating any hotspots of light!
Not only is the collapsible design more durable than any metal-construction reflector would ever hope to be, but it also manages to be more compact. At the same time, it gives you two different beam angles to boot.
Not got Bowens S-Type fitting lights? A Profoto Mount is also available to use to connect this reflector to your strobe if you have Profoto fitting units. 
MagMod Strobe Light Modifier Options
If you want to modify your light further than just using the reflector. There are a range of attachments you can use!
Grids - Magnetic Light Modifiers
Two different beam-angled grids are available, at 20° and 40°, to control any light spill and focus the light in a closer direction. Made from flexible yet highly durable silicone, these grids are difficult to damage. It means you won't have any trouble with broken plastic.
With built-in strong magnets, these Light Modifier Grids can be attached directly to the front of the MagModXL reflector. If you want extra versatility, you can even use with the MagRing2!
Silicone Dome Diffuser - - Strobe Light Modifiers
Like the grids, the Dome Diffuser uses strong neodymium magnets to attach to the front of the XL reflector and can compatible with the MagRing2.
Made of super-soft silicone, this space-saving diffuser is flexible and squish-able, which fits it into a small bag. It produces a soft, omnidirectional bare-bulb light effect that works perfectly either on or off-camera and works equally well on-location or in the studio.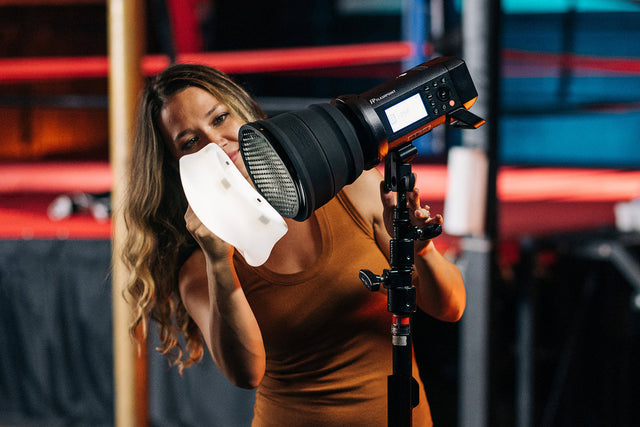 Gel Domes - Flash Diffusers
A range of solid Gel Domes are available, fitting both the XL Range Reflector and the MagBox Pro Softboxes too!
Connecting to the inside of the reflector, meaning you can gel and grid or diffuse your reflector at the same time with ease, these domes don't touch the glass dome or flash tube of your lighting. So, you won't have to worry about the gels melting or being damaged by the heat of the light. Just clip it in, and you're ready to go!
These gel domes come in a range of colour options, including a CTO Colour Correction kit, with orange, green, and blue tones, a Primary Colour Creative Gel Dome Kit with bright red, blue, yellow and purple tones, and an Artistic Colour Gel Dome Kit with pink, turquoise, lime green, lilac colours and more. 
The three orange tones from the CTO are also provided with the MagMod XL Kit. So you don't have to buy these separately if you just want the basic kit.
MagMod Carry Case/Bag
If you're after multiple Bowens and Profoto light modifiers from the XL range, the MagMod XL bag is also available to purchase separately. It is designed with a handy shoulder strap, and a semi-rigid shell to protect the kit from damage. Even more, a standing strap to attach straight to the bottom of your light stand pole. It adds extra stability and keeps your equipment off the floor.
Or, if you're after the whole set, the main MagMod XL set can be purchased with the case in the Professional Strobe Kit Set. This professional strobe light modifiers kit comes with a reflector, diffuser, grids, and case, along with some CTO gels. Please note that the artistic and creative gels are not supplied with this kit.
The starter kit is also available, which is comprised of the reflector, diffuser dome, and 40° grid.
The MagMod XL Light Modifiers Kit is due to arrive at EssentialPhoto at the start of October! Any pre-orders placed before stock arrives for these items will be kept on hold and dispatched as soon as the stock is with us.