Godox is recognised as one of a leader in lighting technology. Pixapro will introduce 3 types of LED light including ML30, ML30Bi and S30.
ML30 and ML30Bi are the smallest COB lights in the Godox Lighting Range. Where ever you are, you can instantly use them to pack up the light and power your work with minimal space taking. You will be able to explore lots of fun in your filming your journey with ML30, ML30Bi. 
In fact, the MINI30D is the rebranded version of the Godox S30 unit. Meanwhile, both units are manufactured together so that each version offers the same high quality and specifications. As the MINI30D is the same achieving the top pick in 2018 by PixaPro. It also allows utilising the same modifiers and accessories that would be compatible with the Godox S30, such as Godox 2.4GHz Triggers.
We here at EssentialPhoto are also able to offer a 24 Month UK Based Warranty Period for each of our Lighting units. It allows us to offer detailed and professional advice and support throughout this period. From here, you can generally figure out the key main strengths and weaknesses of these brands and also choose the appropriate flash. 
Light in the palm of your hand
The ML30/30Bi LED light is like a pocket-sized cup of sunshine that you can take with you wherever you go. It may easily fit in the palm of your hands due to its little size. This product is the ideal light for run-and-gun shooting. Since it has a grip handle by two Sony NP-F series or comparable batteries. The S30 (MINI30D), on the other hand, excels at casting a silky-smooth graded ball of light. It is perfect for use as a spotlight or to draw attention to particular areas of the picture. 
COB Led Technology
Both ML30 and ML30Bi are using the latest technology which is COB Led. By having this technology, these products can produce a daylight balance at 1300 LUX at 1m bare bulb in 5600K. Both products' lamp has the same brightness as a conventional 400W tungsten light source. But there is one difference in the light power, 37.5W for the ML30 and 40W for the ML30Bi. 
The Godox S30 is using LED light which has a brightness range of 12,000 Lux at 1m and a Daylight Balanced light at 5600K. With the LED light, the S30 can produce a silky-smooth graded ball of light projected by the optical lens mechanism on this small.
Colour Accuracy
The ML30/ML30Bi has an exceptionally high TLCI (Television Lighting Consistency Index) rating of 97 and a CRI (Colour-Rendering Index) rating of 96 for accurate colour reproduction. This indicates that the ML30/ML30Bi is appropriate for filmmaking and commercial cinematography as well as professional broadcast applications. There is a small change in the TLCI figure in Godox S30 which is only at 96. However, it is still in a good range which shows flawless colour consistency. The CRI figure of S30 is appropriate for professional broadcast use, as well as for cinematography and smaller productions.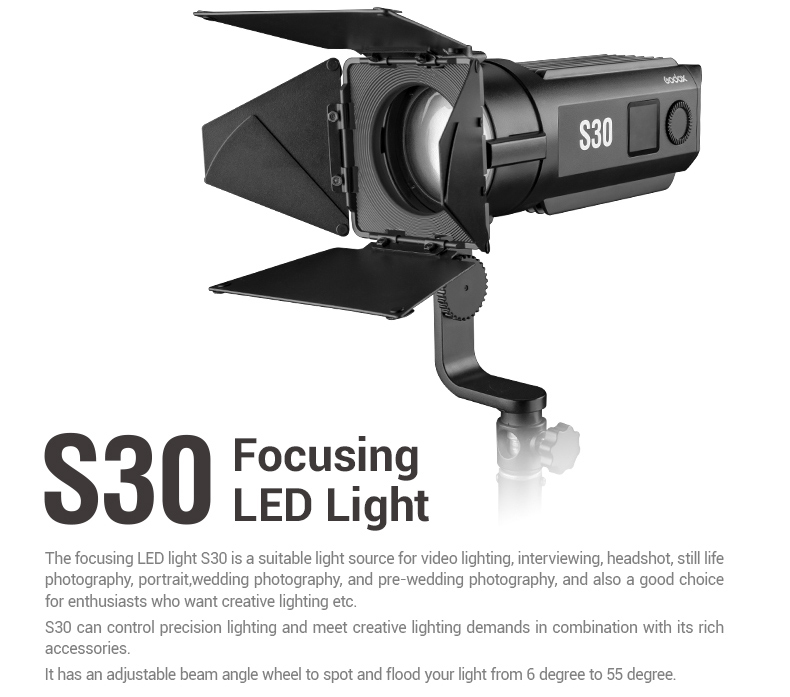 Framerate 
Additionally, the inbuilt COB LED chip on ML30/ML30 Bi is flicker-free. It allows you to shoot at almost any shutter angle without worrying about adding a flicker to your movie. Unfortunately, this feature is not in S30 as this product uses LED light. 
Easy to Use Interface 
The ML30 and 30Bi have an LCD screen for the user as well as an easy-to-use control dial interface. You can steplessly adjust the light's brightness using the Controller box, from 100% brightness down to 0% brightness. The Godox Light smartphone app enables remote control of the ML30/30Bi. This makes it possible for you to remotely control the light's brightness.
With the S30 (MINI30D), it is more flexible in this one as it is built to use especially in the studio. So there are numerous lighting controls available for the MINI30D. It has a power range of 10% to 100%, and it can be dimmed. To provide silky-smooth, the beam angle helps zoom in and out by any amount between 6° and 55°. Using the 8-Way Barn Doors that come with the S30, you can further control the light so that it doesn't shine on areas of the scene that you don't want it to. Furthermore, the S30 comes with an AC adapter that can be used everywhere in the world. However, it is powered by a USB power bank or an optional NP-F battery that must be purchased separately when AC power is not available.
MINI30D ( Godox S30)
Ultra-quite fan
Not only small for bringing it on the go but the ML30/30Bi has also had another feature. It helps very much in situations that need silence which is an ultra-quiet fan. The product also has a brand-new Built-In Super-Quiet Electronic Fan makes it perfect for use in settings where background noise is crucial, including video interviews and similar circumstances.
SFX Lighting Modes
With the ML30/30Bi's 8x built-in lighting effect presets, you may imitate a variety of lighting situations, such as lightning storms, a TV, a damaged bulb, paparazzi, etc., expanding your cinematography's creative options. 
Wide range of Modifiers 
The ML30/30Bi uses with GODOX's selection of super-compact modifiers because it is immediately compatible with all GODOX-Mount mods. It uses in conjunction with the Round-Head Smart Bracket. It offers you immediate access to the extensive selection of Bowens S-Type modifiers. And also It gives you the choice to shape and adjust the light to meet your needs. This is also the same with S30 as this product also comes from Godox which will have lots of compatible accessories. A wide variety of accessories are available for the S30 to expand its capability. To protect, regulate, and shape the light, these accessories include a projection attachment, gobos, shutter blades, and an iris diaphragm. Scrims use to either completely or partially regulate the amount of light.
ML30 LED Head Unit With Smart Bracket S-Type Fit
Barndoors
This is a special include when buying an S30 which will help photographers in controlling the precision of the shape of the project line to get the exact light beam that they want to have in the picture. 
Final Words 
In general, a small-but-powerful lighting option for both amateur and professional photographers, videographers, and cinematographers is the GODOX ML30/ 30Bi. These products were ideal for Still-life and portrait photography, marketing and advertising, video interviews, green screen video, and filmmaking. This is a little bit different than the S30 as it was not for traveling. For photographers or filmmakers who prefer to add mood to their lighting, the MINI30D is the perfect instrument. Excellent for actors, products, fashion, and dramatic portrait photographers as well as cinematographers.
EssentialPhoto and PiXAPRO are pleased to be a direct partner of Godox in the United Kingdom, with the largest collection of Godox stock available in the UK. So you can be confident with the support and assistance we provide. As we are representing Godox at The Photography Show 2022, this further shows our partnership and commitment to the Godox Brand, and we are always looking to expand this further.
Brand
Godox
Model
ML30
ML30Bi
S30 (MINI30D)
Price
£174.99
£200.99
£224.99
Power Output
37.5W
40W
30W
Brightness
35,700 Lux @ 0.5m 7,120 Lux @1m 1,580 Lux @ 2m
36,800 Lux @ 0.5m 5,266 Lux @1m 1580 Lux @ 2m

11,300 Lux at 3.28' / 1 m

Colour Temperature
5600K
2800K - 6500K
5600K ± 150K
CRI
96+
96+
96
TLCI
97+
97+
96
PowerRange
0% - 100%
0% - 100%
100% - 10%
Power Supply
Output 14.0V 3.4A
Output 14.0V 3.4A
15V/4A DC
Dimensions
120mm x 88mm x 88mm (excluding reflector and grip)
120mm x 88mm x 88mm (excluding reflector and grip)
Weight
587g (excluding reflector and grip)
502g (excluding reflector and grip)
907g
Accessory Mount
Godox
Godox
Godox
Alternative Accessory Mount

Bowens S-Type (when used with

Round-Head Smart Bracket

).