Broncolor put quite a large of effort into the design of the Siros L range. It has already been placed in the market over the year which makes it so much more competitive and attractive. However, its selling price might be a bias for photographers who looking for affordable products with high quality. Therefore, alternative brands always are interested in almost expert photographers. One of the most brands that must be mentioned is Godox and Pixapro. Both two brands are significantly available with a varied range of equipment for demanding tasks and more complex light situations.
In fact, the CITI600 PRO is the rebranded version of the Godox AD600 PRO Flash unit, which means that both units are manufactured together so that each version offers the same high quality and specifications. As the CITI600 PRO is the same, this also allows this to be used with all the same Modifiers and Accessories that would be compatible with the AD600 PRO, such as Godox 2.4GHz Triggers. We here at EssentialPhoto are also able to offer a 24 Month UK Based Warranty Period for each of our Lighting units, which allows us to offer detailed and professional advice and support throughout this period. From here, you can generally figure out the key main strengths and weaknesses of these brands and also choose the appropriate flash. 
In this blog, three flash models following the PixaPro Citi600Pro, Godox AD600Pro and Broncolor Siros 800L will be discovered. 
Some facts about the PixaPro Citi600Pro, Godox AD600Pro and Broncolor Siros 800L
Generally, three products have succeeded in introducing the most powerful compact devices available on the market. These products are quite similar in many aspects. But also it still has some key differences which are suitable for different types of photographs. Both units are also known as strobes with powered monolight. Meanwhile, it gives aspirational professional photographers the chance to experience the ideal illumination. Even more, these products are also the ideal device in a movable form in the studio or outdoor shots.
Godox AD600Pro, PixaPro CITI600Pro and Broncolor Siros 800L
Power 
As you know, all Siros L units update with the latest software which is called 'HS' compatible. This software lets you use flash in combination with very short exposure time settings on your camera. For instance, with ambient light, the image can suitably underexpose with a shutter speed of up to 1/8000 s and Siros L still allows you to set dominant and artistic light effects. The Siros 800L completely covers 9 stops which are not only bright daylight can be 'out flashed' by it at the high output but also low settings make wide-open apertures possible for photography. 
In comparison to the Broncolor Siros 800L, the Citi600Pro/AD600pro has a larger power output of up to 600W and 250W, respectively. Both of these devices referred to as monolights with a flash tube, control system, and power source due to their increased power consumption. As a result, it is the best option for both transportation and movement. The implication is that you can easily photograph small or huge subjects, and you have additional lighting possibilities.
Design 
When compared, the Siros 800 L is like the slightly smaller Siros 400 L. It is a great genius in providing discerning photographers with the best illumination both indoors and outside. It is also a very simple operation using a single rotary controller. The Broncolor Siros 800L also built-in LED modelling lamp with 25W offering bright modelling light at a temperature of 5500K. Furthermore, it ensures stable colour temperature across the whole control range. Consequently, Siros 800L produced the perfect light without compromises and becomes the favour of an external flash tube. 
It is also similar to built-in LED modelling lamps with the Citi600Pro and AD600Pro. However, the Citi600Pro and AD600Pro produced a higher number wattage of modelling lamps at 38W. Additionally, it includes a metal stand mount and an underside-mounted umbrella socket to guarantee tight attachment without running the risk of plastic cracking and harming your pricey robustness. Additionally, the Citi600Pro and AD600Pro modified with a power button. This allows you to rapidly continue shooting with a minimal number of alternate parts.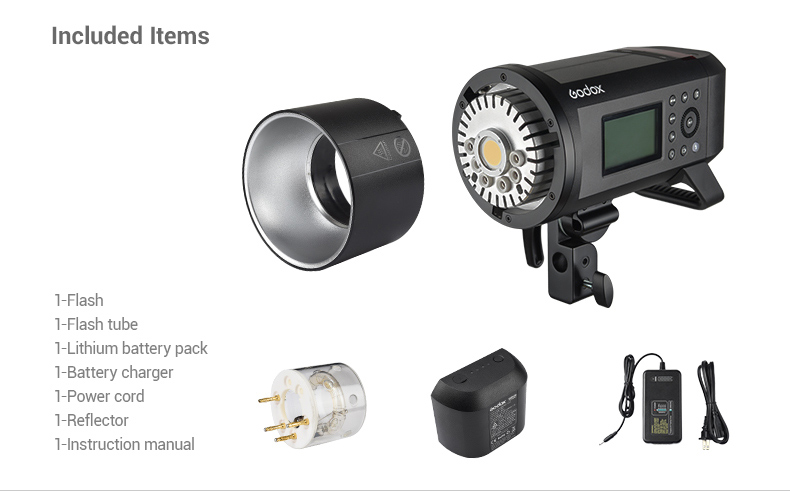 Godox AD600Pro
Recycle Times 
Recycle times for the Citi600 Pro and AD600 Pro are extremely fast, ranging from 0.01-0.9s. It has the recycles time faster than the Broncolor Siros 800L with charging times of 0.03 to 2.7s. Therefore, the 600Pro give the photographers the best experience when shooting as you never have to wait for thanks to the lightning-fast charging. 
Battery 
The flexibility of a battery-powered monobloc is undeniable when compared to a Speedlight because it has a greater power that supplies over a wider range, producing shorter flash durations, and has a lot more scope for light shaping thanks to complex systems of accessories. Temperatures between 10°C and +60°C are well within the battery's operating range. This allows you complete freedom over where you go. This  battery fully recharges after draining in just 70 minutes.
More Information: Read this article to better understand about PiXAPRO CITI600 range comparison. 
Flash Duration 
The advanced ECTC technology from Scoro and Move power packs adjusts the flash curve and allows flash durations as long as 1/19,000 seconds in Siros L. While IGBT technology used by the Pixapro Citi600Pro and Godox Ad600Pro to produce flash durations of 1/10,000 of a second. This feature creates a more fabulous image, which makes it perfect for shooting quickly moving scenes. And also, the 600Pro also offered to achieve higher shutter speeds than normal. It also gives you the opportunity to overpower the sun making your shooting outdoor perfectly by reducing the ambient light. Meanwhile, you can also completely block out the sun to get the shot you desire while reducing ambient light. 
Modifier Compatibility
All Broncolor light-shaper models are compatible with the Siros L. A lot of light-shapers, including softboxes, and open reflectors can only ensure the best light output and quality if the light source positioned as near as possible to the focal point inside the reflector. In general, the Broncolor umbrella silver/black 
will spread out and soften the light, with larger sizes producing an even softer impact. With a reflecting silver interior and a black backing, this model offers a clearer, more concentrated light that reveals structure and detail in your images. An adapter for mounting Broncolor softboxes on Broncolor flash units is the Broncolor Speed Ring. It features colour coding on the rear face for easily assembling the softbox.  
Like most Godox products, the AD600Pro/ Citi600Pro can carry any Bowens S mount light shaper, therefore there are nearly endless possibilities. You can use generic reflectors or umbrellas to shape light in conjunction with Godox brand items. The AD600Pro and Citi600Pro also supply compatibility with a number of camera brands, including Canon E-TTL II, Sony, Fujifilm, and more. As a result, your existing TTL flash system can easily accommodate the Citi 600Pro and AD600pro. Additionally, it performs nicely with the X1T, XT32, and XPro. Furthermore, the Godox 36cm x 160cm Strip Light with a grid and the Godox 128 Parabolic Reflector can also employ for lighting.
The "bronControl" app used to control all of Siros' fundamental features. Several studio devices can be managed using a smartphone or tablet as soon as Siros is connected to a WiFi network. These devices are distinguished from one another by various coloured LEDs. Another benefit is that the app has complete individual control and absolute clarity when controlling the functions of up to 6 units. Siros L is still easy to use and intuitive even without the app. The "Twist Function" on the single rotary controller enables you to set the output quickly over a range of f-stops or precisely in stages of 1/10 f-stop. You can access the menu and all of the extra features by turning the same knob.
More Information: Read this article to depply understand about the PixaPro Citi600Pro
The Citi600Pro/AD600Pro also powered down in 1/10 stop increments to 1/256 of its maximum power. This is perfect if you want to take pictures with a shallow depth of field by using a wide aperture. In terms of 600pro, the Citi600 Pro/ AD600 Pro manage with the greatest TTL, HSS and remote manual power managing with the Pixapro Pro ST-IV or ST-III transmitters. It is particularly appropriate for shooting in place.
PRO ST-IV 2.4GHz flash transmitter by PixaPro
Final Thoughts
In short, the light quality of these products considers equal to incredible high-quality light with colour accuracy, super flash durations and a diverse range of wireless control. This means the photographer can exploit the advantages of an enormous range of light sharpers. Besides the amazing quality and compact design, the Broncolor Siros 800L is quite expensive and evaluated as the most expensive flash available on the market with a selling price of £ 4.154,17. While, with similar quality, the Godox AD600Pro and Pixapro Citi600Pro sell at the lower prices of £574.00 and £639.00 respectively. 
More Information: Read this article to understand the difference between CITI600 and CITI600Pro. 
EssentialPhoto and PiXAPRO are pleased to be a direct partner of Godox in the United Kingdom, with the largest collection of Godox stock available in the UK, so you can be confident with the support and assistance we provide. As we are representing Godox at The Photography Show 2022, this further shows our partnership and commitment to the Godox Brand, and we are always looking to expand this further.
Brand
PixaPro (rebrand Godox)
Godox
Broncolor
Model
Citi600 Pro
AD600Pro
Siros 800L
Price
£799.00
£799.00
£4,154.17
Flash Head
Max Power
600Ws
600Ws
800 Ws
Power Control
9 stops
9 stops
9 Stops in 1/10-      Stop Increments
Guide Number
285' / 87 m
285' / 87 m
Flash Duration
1/10,000 to 1/220 Sec
1/10,000 to 1/220 Sec
t.1: 1/4400 to 1/250 Sec
t.5: 1/7400 to 1/700 Sec
Recycle Time
0.01 – 0.90
0.01 – 0.90
0.03 to 2.7s
Color Temperature
5600 ± 75k
5600 ± 200k
5500K
Accessory Mount
Bowens S-Stype
Bowens S-Stype
Broncolor
Modeling Light
Type
LED
LED
LED
Wattage
38W
38W
25 W
Color Temperature
4800K
4800K
3000K
Sync
Sync Type

Sync port, USB port, S1 and S2 Optical Slave Modes, Radio

Sync port, USB port, S1 and S2 Optical Slave Modes, Radio

Cable, Optical, Radio
Built-In Wireless Receiver
Yes
Yes
Yes
Wireless Frequency Bands
2.4 GHz
2.4 GHz
No data
Wireless Channels / Groups
32 / 5
32 / 5
No data
Interface
Barrel 3.5 mm PC Sync, USB Type-C
Barrel 3.5 mm PC Sync, USB Type-C
Micro-USB
Battery
Battery Chemistry
Lithium-Ion
Lithium-Ion
Lithium-Ion
Maximum Output Voltage
28.8 VDC
28.8 VDC
28.8 VDC
Capacity (mAh)
2600 mAh
2600 mAh
2500 mAh
Flashes Per Charge
approx. 370/ charge
360/ charge
220 Flashes
General
Display
LCD
LCD
None
Fan Cooled
Yes
Yes
No data
Dimensions
H: 3.9 x W: 4.3 x L: 6.9" /
H: 9.9 x W: 10.9 x L: 17.5 cm
Including Stand Adapter
H: 9.6 x W: 4.9 x L: 9.8" /
H: 24.5 x W: 12.5 x L: 25.0 cm
Including Stand Adapter
H: 7.1 x W: 5.1 x L: 14.0" /
H: 18.0 x W: 13.0 x L: 36.0 cm
Net. Weight
3kg
3kg
8.2 lb / 3.7228 kg
9.3 lb / 4.2222 kg, Including Battery