The Godox brand is becoming extremely well-known as high output, low cost, efficient option when choosing an LED lighting device. Instead of adjusting your camera settings and the processing of your film, you can choose LED lighting. It is also available in either daylight or tungsten balance as well as bi-colour. In Godox's latest releases, the Godox ML60/ ML60Bi and S60D form an almost perfect trifecta of portable lighting solutions. 
In this guide, we will discuss the differences between the ML60, ML60Bi and S60D which are the most cost-effective and beneficial options. 
In reality, Pixapro is a brand of Essential Photo, a UK distributor who rebrands Godox gear as their own. It's basically the same thing inside with all technical specifications being the same. One advantage if you like it in the UK is that Essential Photo offers a 2-year UK-based warranty. Unlike if you get the original Godox branded contract from Amazon where you only get 1 year from a vendor who is likely based in China. 
Similarlities 
CRI and TLCI of These Lighting Devices
Both of these lighting units have the same CRI rating and TLCI rating. In more detail, these ratings are a standard guide to the quality of light sources with the latter being more relevant when shooting. While, Godox claims that the ML60, ML60Bi and S60D are released with high ratings: ≥96 of CRI and  ≥97 of TLCI. Meanwhile, the ML60, ML60Bi and S60D are suitable for professional broadcast use as well as for film-making and commercial cinematography. Both ML60 and ML60Bi can steplessly adjust the brightness. It can change the light settings from 100% brightness down to 0% brightness. 
Lighting Effects 
The Godox ML60 and ML60Bi are lightweight and highly portable LED lights. It produces 32 channels and 16 groups as same as the Godox S60D. It is the ideal function if you are shooting in the same location as others using the same lights. You can control this feature by using the optional RC-A6 wireless radio remote control. Similar to the new SL150II and SL200II models, the ML60 comes with a range of FX modes. It includes a variety of effects such as lighting storms, a TV, broken bulb, paparazzi, and more. Even those, the ML60 features 8x built-in lighting effect presets as similar to the S60D. It allows you to simulate a selection of lighting scenarios. Likewise, you only use the ML60Bi with a 7xbuilt-in lighting effect which is slightly less than the ML60. 
Modifier Compatibilities 
Like all lighting device from Godox, three lighting units as standard use with all Godox mount super compact modifiers right out of the box. For example, you can use it in conjunction with the Round-Head Smart Bracket to click the ML60. It offers immediate access to the extensive selection of Bowens S-Type. This feature gives you the choice to shape and adjust the light to meet your needs with a different range of modifiers.
Silent Mode 
You can spend less time in post-production by using the silent option. It is great for circumstances where fan noise can be an issue, including when recording video interviews. Understanding this, Godox released the ML60, ML60Bi and S60D with a brand-new built-in super-quite electronic fan. With its improved heat dissipation system, the fan does not kick in until a specific temperature is hit. Meanwhile, it could keep quiet for a longer time. This feature makes these lights perfect for use in settings where background noise is crucial including video interviews and similar circumstances.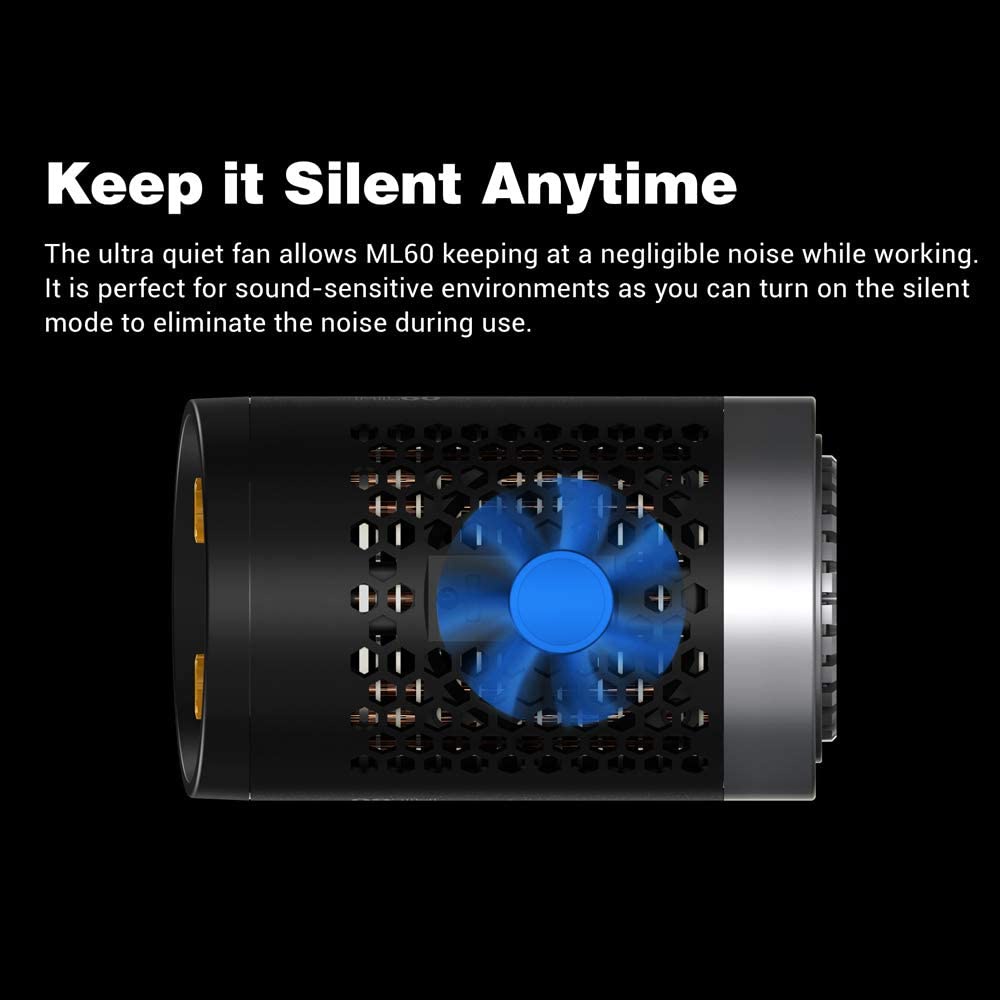 Differences 
Colour Temperature 
LED lighting devices come in a wide range of hues. If you photograph using LED illumination, your camera will precisely record the colours of the scene as it can capture a range of colour intensities. Thanks to LED lighting device, photographers won't have to spend as much time editing after the shoot. For example, using the latest in COB LED technology, the ML60 sues 5600K daylight-balanced to shoot at virtually any framerate or shutter angle without any fear. The ML60Bi uses a Bi-Colour daylight-balanced 60W COB (Chip on Board) LED chip with a light output of 10,100 LUX at 1m. It is comparable to the brightness of a standard 600W tungsten light. The colour temperature of the chip is changeable between 2800K and 6500K. With the same power output at 60W, the ML60 has a higher light output of 13,000 lux at 1m when compared with the ML60Bi.
Similar to the ML60, the Godox S60 Focusable LED Lighting device is a 60W 5600K Daylight-Balanced light source. It allows you to continually change the beam angle between 6° and 55°.
Small and Compact Design 
The ML60 and ML60Bi's incredibly small body resembles a standard lens. Because of this, the ML60 can fit in most equipment bags other than its own. Two lighting units have the same dimensions of 145mm x 88mm x 88mm and also a similar weight of 0.77kg. Therefore, never go anywhere without this sturdy, portable, and tiny LED video light that can fit in even the smallest of locations.
While the S60D is much heavier and bigger in comparison with the ML60 and ML60Bi with 264mm x 107mm x 100mm dimensions and 1.36kg of weight. If you have to travel around when shooting, the ML60 and ML60Bi are born for you. Moreover, with an ergonomic handle, any assistants you may have with you during the day are well thought about. Because the ML60/ Ml60 Bi comes with an incredible handle design which is tiny and low weight allowing spread easily in the hand. This is also useful should you have no room for stands. To easily control the dial interface, the ML60 and ML60Bi feature an LCD screen 
Optional Battery Power
Because it is powered by the mains, the ML60 can shoot continuously. However, cables might not be an option due to its extremely compact design. The ML60 can support up to 2 NP-F970 batteries and run for hours. This allows them to be plugged in when you have access to mains power. Besides, there are three methods for controlling the S60D. Using the GODOX Light smartphone app through Bluetooth, using the 2.4GHz Wireless Remote control (Available Separately), or directly using the control panel. Similar to the S60D LED lighting device, the ML60 and Ml60Bi also possible to use Bluetooth and the Godox light app or even a smartphone to adjust the power and colour temperature. 
Final Thoughts 
If you require a continuous light for still photography or a professional LED light for recording videos, the ML60, ML60Bi and S60D are useful options. Compared to the previous tungsten lights, LED lights are cooler. In addition, LED lights convert 90% of the energy into light. As a result, they are less expensive and simpler to use.
Godox S60 LED and Projection Attachment
Three lighting units are a fanless design which is a key advantage when shooting videos without sound noise. It prefers to interfere with the process of recording the footage and audio. These lightings can modifier options without endless as using the Bowens mount. Additionally, as these lights have a compact design, the ML60 and Ml60Bi are lighter and more convenient to work with. Nevertheless, the S60D offers a gentle focusable daylight-balanced light allowing you to adjust the beam angle. It is even more perfect for lighting up a specific singular point or for filling an area with light. If you are an interviewer or cinematographer who wants to cover all interview possibilities from a single subject to a group, the S60D is for you. 
EssentialPhoto and PiXAPRO are pleased to be a direct partners of Godox in the United Kingdom, with the largest collection of Godox stock available in the UK. So you can be confident with the support and assistance we provide. As we are representing Godox at The Photography Show 2022, this further shows our partnership and commitment to the Godox Brand, and we are always looking to expand this further.
Brand
GODOX
Model
ML60
ML60Bi
S60D
Price
£245.99
£257.99
£313.99
Power Output
60W
60W
60W
Brightness (With Standard Reflector)
13,000 LUX @1m
69,000 LUX @ 0.5m
10,100 (@1m)
Flood (Central Area) 3,200lx Spot (Central Area) 40,000lx
Colour Temperature
5600K ±200K
2800K ~ 6500K
5600K ± 300k
CRI
96+
96
>96
TLCI
97+
97
>97
Power Range
0%-100%
0% - 100%
0 - 100%
Channels
32
32
32
Groups
16 (A, B, C, D, E and F, 0-9)
16 (A, B, C, D, E and F, 0-9)
16 (A, B, C, D, E and F, 0-9)
Control Methods
on device , DMX , Godox app , RC-A6 remote
Godox Light APP / 2.4GHz Wireless Control
No data
Bluetooth Range
No data
30m
50m
Output
16.8V 4.2A
16.8V 4.2A
AC 100V-240V (50/60Hz), 14.8V (Optional)
Operating Temperature
No data
-10°C ~ 40°C
-10°C – 40°C
Dimensions
145mm x 88mm x 88mm (excluding reflector and grip)
145mm x 88mm x 88mm (Excluding Grip and Reflector)
264mm x 107mm x 100mm
Weight
0.77kg (excluding reflector and grip)
0.77KG (Excluding Grip and Reflector)
1.36kg
Accessory Mount
Godox
Godox
Godox
Alternative Accessory Mount
Bowens S-Type (when used with Round-Head Smart Bracket )
Bowens S-Type (when used with Round-Head Smart Bracket)
Bowens S-Type (when used with Round-Head Smart Bracket)

Battery Usage Time (

NP-F750

)

Approx. 45mins

Battery Usage Time (

NP-F970

)

Approx. 60mins