The primary, and the biggest difference are two continuous lighting between the Godox SL300II and Forza 300. Let's read the below section.
Both luminaires have the same CRI of 96+ indicating that the final image quality will be best when the CRI is high. Generally, a CRI of 96+ of both units is considered accurately light showing the colors of the objects (or people under them). One more parameter which is important for photographers is TLCI with a little bit different, 97+ for SL300 II and 98 for Nanlite's product ensuring that colors are reproduced faithfully in photographs and video footage. In essence, the Godox SL300 II and the FS300 are perfect for broadcast use, for larger TV, and film productions. Last but not least, the effects of both products are fairly similar to each other's, both including flash, pulse, bad bulb, storm, and television.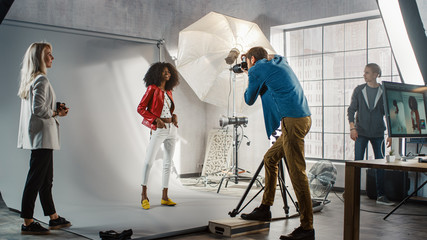 Light Brightness of Both Continuous Lighting
In terms of bi-colour, Godox continues to expand its brand of studio-based LED with the release of the Godox Sl300II with 99300 LUX while the FORZA 300 is having only 41040 LUX @ 1m. While the FS300 continuous lighting offered 29380 Lux@1m, was much more limited in the ability to smooth and even light spread. Because of the higher LUX measurement, this means that the light will travel a further distance, allowing it to be used in a larger area. As with features, the light of Godox Sl300II not only has excellent colour temperature but also flexibility and manages to find its place in the market with specific specifications and competitive prices. 
Bi-colour
Godox is pleased to announce the Godox SL300II Bi continuous lighting as the professional CCT range provided from 2800K to 6500K to ensure sufficient brightness and also save time for repeated lighting adjustments during shoots. In contrast, the version of  FS300 only offers the CCT range of daylight balanced light with 5600k at 1m which means it narrows the colour range scale to emit bright blue, white light closed to daylight. 

SL300II Daylight-Balanced and SL300IIBi Bi-Colour
Wireless remote compatibility
The new released Godox allows photographers to control a variety range of light in different environments with the RC-A6 wireless remote control. The remote will include 34 selectable channels for users to choose which will also help avoid interference. This is also another missed function of FS-300 continuous lighting. It only has onboard controllers.

Modifer Compatibility
Modifier compatibility has been highlighted in the design of both units. Using the Bowens S-Types Mount enables you to adjust various settings and camera light modifiers such as softboxes, reflectors, beauty dishes, and filmmakers. Both of units adopt the popular design of the available Bowen Mount and the umbrella holder is compatible with widely native and third-party modifiers.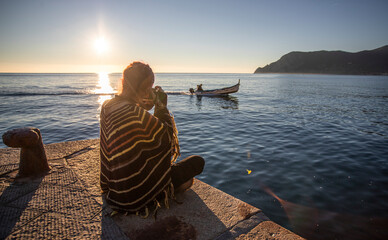 Wireless Control and Silence Mode
The most different thing about the Godox Sl300II and the FS300 is the unique design from wireless control and the silence mode. Instead, the Godox Rc-A6 wireless remote control, which enables simple wireless adjustments, can be used to organise the various lights. In contrast, the FS300 has no wireless control and solely onboard controllers. Significantly, the Godox SL300II - LED camera light gives photographers the ideal opportunity to operate in acoustically sensitive settings with a strong and extraordinarily silent heat dissipation mechanism. For instance, when filming sound-sensitive work, this function will assist in capturing crystal-clear audio. The FS-300 continuous lighting is outfitted with a control unit, which is also used to help with heat dissipation. You might be able to turn on quiet mode to completely muffle the cooling fan or  switch to a silent mode where absolute silence. 
Acceossries
For anyone wishing to create their own illumination while using the Godox SL150II light, these well-known accessories are supplied with several uses in order to maximise the output product. For example, if you want to eliminate the shadows or lessen the specular highlights in a midday sun, the diffuser panel is a wonderful solution for you. The 80cm collapsible diffuser ball will also provide you with the greatest answer if you frequently struggle to take photographs because it can mimic natural lighting. The optical fresnel lens, which allows you to focus and concentrate while increasing the lighting's actual output by up to 19 times, appears to be more appropriate for cinematographers, indie filmmakers, and theatre productions than the foldable diffuser ball. While, cinematographers, independent filmmakers, videographers, and photographers who are looking for a portable solution capable of uniformly lighting large spaces or who want to increase ambient light in their shooting environment for more realistic-looking results will love the Space Light Lantern diffuser. Morover, the PIXAPRO C-stand (also known as the Century Stand) is frequently used by both photographers and movie producers. Due to their sturdy stainless-steel metal design, they can support big equipment like large light banks and strobes with large or heavy modifiers. 
50" C-Stand With Detachable Turtle Base Grip & Arm Set
Final Words
The Godox SL300 II is powerful for photographers, cinematographers, and videographers. In fact, it is much more expensive compared to the  FS-300 because of the added features and functions compared to the FS-300. There are some positive and negative of both products which make each one suitable for different situations and the need of users. Based on the different events, photographers or videographers can be used different ones by simply exploring all the possibilities that might happen during the events. Like shooting in a studio will need more light and light reflections as the environment light is not very good, so going with SL300 II continuous lighting is more reasonable.
If you are still not sure or cannot find what you are looking for listed on the website. Do not hesitate to contact us, we are very happy to discuss this in more detail.
EssentialPhoto and PiXAPRO are pleased to be a direct partner of Godox in the United Kingdom, with the largest collection of Godox stock available in the UK, so you can be confident with the support and assistance we provide. As we are representing Godox at The Photography Show 2022, this further shows our partnership and commitment to the Godox Brand, and we are always looking to expand this further.
Brand
                     Godox
Nanlite
Model
SL300II
SL300II Bi
FS-300
Retail price (USD)
£455.00
£475.00
£350.00
Max Power Consumption
320W
320W
330W
Beam Angle
330°
120°
Color Temperature
5600K±200K
2800K-6500K
5600K
Brightness @1m
99300
52300
41040
CRI
96
96
96
TLCI
97
97
98
Cooling down
Fan
Fan
Fan
Silent Mode Operation
Yes
Yes
Dimming
0%-100%
0%-100%
0 to 100%
Housing Material
Aluminum
Reflector Mount
Bowens
Bowens
Bowens
Remote Control Type
2.4G wireless
2.4G wireless
On-board controller,2.4G,Bluetooth
Wireless Channels / Groups
32 / 16
32 / 16
12
AC Input Power
AC100-240V 50/60Hz
AC100-240V 50/60Hz
AC100-240V 50/60Hz
Dimension
362*194*311 mm
407*316*199 mm
311.5*156*123 mm
Weight
3.62kg
3.78kg
2.95kg/6.49lb
Special Effects (FX)
8 kinds
8 kinds
11kinds
Package Content
1*SL300II
1*5M Power Cord
1*Standard Reflector
1*Lamp Cover
1*Manual
1x SL300II Bi LED Light Head
1x Glass Dome Cover
1x Power Cable
1x Protection Cover
1x Standard Reflector
1*FS300
1*4.5M Power Cable
1*Reflector
1*User Manual